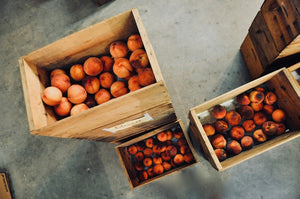 Whole Harvest of Fresh Peaches Subscription
Eight harvests of 13 fresh Georgia peaches delivered each week throughout June 5th – July 24th. You will recieve one harvest per week.
Perfect for the peach enthusiasts or jam and can fans!
Sweet, juicy, farm fresh and Georgia grown! Our peaches come straight from local Georgia farms! They make great snacks, cobblers/ desserts, jams, smoothies, you name it!
 Give the gift of a Georgia peach today!
 Family, friends, neighbors and other loved ones will surely appreciate it!
The peak of peach picking is during the months of June and July. This is the best time Georgia Peach World can offer to deliver fresh produce to your door.
 All peaches are selected quality, hand picked and packed only for you. Your peaches are shipped straight from the farm and sent into your hands within 48 hours of picking.
 In order to guarantee freshness, peaches are picked and shipped only Monday through Wednesday during June 5th – July 24th.  Price includes standard shipping for all 8 deliveries.  Additional shipping may be required for some addresses.**
---
We are unable to ship to P.O. Boxes, only physical addresses.

Due to federal agricultural regulations, we are unable to ship to the states of:

CA, AZ, HI, AK

**Overnight shipping may be required for the following states:

NY, RI, MA, NH, VT, ME, MN, ND, SD, NE, OK, NM, CO, IT, NV, WY, MT, ID, OR, WA

**Shipping may require an additional charge to the following states:


ID, MT, ND, NE, NM, NV, OR, SD, UT, WA, WY